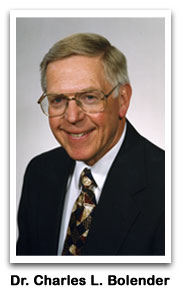 2006 Distinguished Life Member Award
Dr. Charles Bolender
The third Annual Dr. Fred E. Gulick Life Member Award was presented to Dr. Charles Bolender at the June meeting of the Pacific Coast Society for Prosthodontics in Portland, OR.
Charles graduated from University of Iowa dental school, receiving an MS in prosthodontics. He was in the US Army, past president of the PCSP & Academy of Prosthodontics, and has had two prosthodontic study clubs - one in Seattle and one in Yakima, WA. The Yakima study club just finished their 45th year.
Dr. Bolender has many publications, and two textbooks to his credit, and was the chairman of the Department of Prosthodontics at the UW for 42 years. He was the first in the country to establish a prosthodontic honors program for junior & senior dental students at UW.
He is very active in Prosthodontic organizations, was a reviewer for JPD for many years, served on Editorial Council of JPD and was the first UW Distinguished professor of the Dental School honored in early 80's.
He is a very avid gardener and photographer, devoted to his wife Mamie, his family and many grandchildren and also loves to fish.
CONGRATULATIONS DR. BOLENDER!