2012 Life Member Achievement Award
Dr. Richard Frank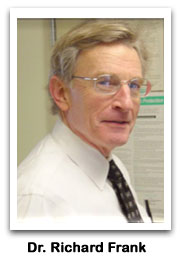 At the 77th Annual Meeting of the Pacific Coast Society for Prosthodontics at the Empress Hotel in Victoria BC, Candida, President Don Reikie honored Dr. Richard Frank with the Fred Gulick Distinguished Life Member Award.
Dr. Richard Frank graduated from the University of Iowa College of Dentistry with honors in 1962.  Following graduation, he joined the U. S. Public Health Service.  During this time he was selected to be a resident in the Graduate Prosthodontic Program at the University of Washington leading to an MS degree in Prosthodontics in 1968. He   left the Public Health Service in 1971 and joined the faculty of the U of W School of Dentistry.  Throughout his 32 year career at the University he had a significant impact on the removable prosthodontic teaching program.  His teaching skills were outstanding in both the classroom and in the clinic and preclinical activities.  In 1980 he earned the academic rank of Full Professor.   From 1989-1995 he served as Chair of the Removable Prosthodontic Department.  In 1995, after returning to the teaching ranks in the Department, Richard conducted two major clinical research projects involving removable partial dentures each resulting in significant publications in 1998 and 2000.  For his 1998 publication entitled ?Treatment Outcomes with Mandibular Partial Dentures: a Population Based Study of Patient Satisfaction?, Dr. Frank was awarded the 2000 IADR  Giddon Award which is given annually for distinguished research in the behavioral sciences.  
Rich Frank?s significant contributions to the PCSP include serving as Secretary-Treasurer for 5 years (1994-1988).  Following this he served on the Executive Council from 1988, going thru the chairs and serving as president in 1994.
In addition to Richard Frank?s career as an outstanding teacher of Prosthodontics, and a very productive researcher he has applied his skills as a practicing prosthodontist.  Over these many years his dental students, his private practice patients and the prosthodontic community have been the beneficiaries of his efforts.
In retirement (2003), Rich continues to enjoy his model railroad projects, hiking adventures and photographic activities.  In addition, he and Mary continue their quest to visit all of the major league baseball stadiums in the U.S.A.