Dr. Roy Yanase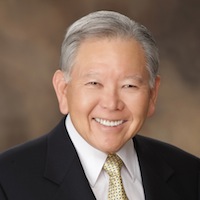 At the 78th Annual Meeting of the Pacific Coast Society for Prosthodontics at the Captain Cook Hotel in Anchorage Alaska, President Don Curtis  honored Dr. Roy Yanase with the Fred Gulick Distinguished Life Member Award.
Dr. Roy Yanase graduated from the University of Southern California in 1962.  Following graduation, he was a Clinical Instructor in Operative Dentistry at USC until 1975. Dr. Yanase came back to USC for graduate training in prosthodontics during 1975-77 and continued on as an Assistant Clinical Professor in Prosthodontics and Continuing Professional Education where he continues to teach part time. Roy has been a consultant to the California State Dental Board and has fellowships in the Academy of Osseointegration, Academy of Prosthodontics, American College of Prosthodontics, and numerous other organizations. Roy has received awards including the Kenneth Wical Award for Excellence in Prosthodontics, a Commendation from Governor Grey Davis in 2002, a Recognition Award from the Japanese American Dental Society, and the President?s Award from the American College of Prosthodontics. Roy has been active in the Odontic Seminar Study Club from 1977 and was Director in 2009.  Roy became a Diplomate of the American Board of Prosthodontics in 1981 and was President of the American Board of Prosthodontics in 2008.
Roy Yanase?s significant contributions to the PCSP include being active in many committee activities and President of PCSP in 1999 at the Coronado Island Resort. 
In addition to Roy Yanase?s career as an outstanding teacher of Prosthodontics, he has been a very productive researcher with over 27 book chapters or scientific articles.  Roy has lectured around the world on various topics in the field of Prosthodontics including dental implants and more recently caries prevention.   
Roy stays active in private practice, lecturing and publishing.  Roy and Regina enjoy gardening and traveling with their family.