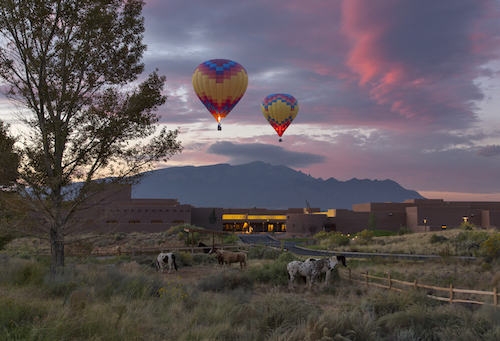 Come and experience a completely unique and authentic journey into the ancient lands of the Tamayame people at Hyatt Regency Tamaya Resort & Spa. Nestled on 550 acres of the Native American Santa Ana Pueblo between the Sandia Mountains and the Rio Grande River, Tamaya is steeped in over one thousand years of rich history and culture.
Hyatt Tamaya Resort and Spa offers 350 guestrooms including 23 suites, Complimentary Wi-Fi, Five restaurants, three heated outdoor pools and one whirlpool, tennis courts, golf at the Twin Warriors Golf Club, as well as, complimentary bicycle rentals for exploring all of the trails on the property for all age groups. The hotel also has the Tamaya Mist Spa & Salon which offers a range of treatments for those that want to be pampered during their stay. Be sure to make your reservations now for this will be a meeting to remember!
Registration is open for the 2022 Annual Meeting in Santa Ana Pueblo, NM. Registration fees will increase on June 2, 2022 so register early.
Visit our mobile friendly Conference pages for more information on the Presentations and Speakers
Preview of the 2022 Scientific Program!
Should you require any further assistance you may contact Amy Valadez at 520-784-9326 or amy.valadez01@gmail.com
The dress code for the Scientific Sessions is business attire.